Embark on an end-to-end program that has future leader as the final destination. From your high school up until leaving university – Yayasan TM has got your back so you can direct your attention forward.
A 360° LOOK INTO YOUR FUTURE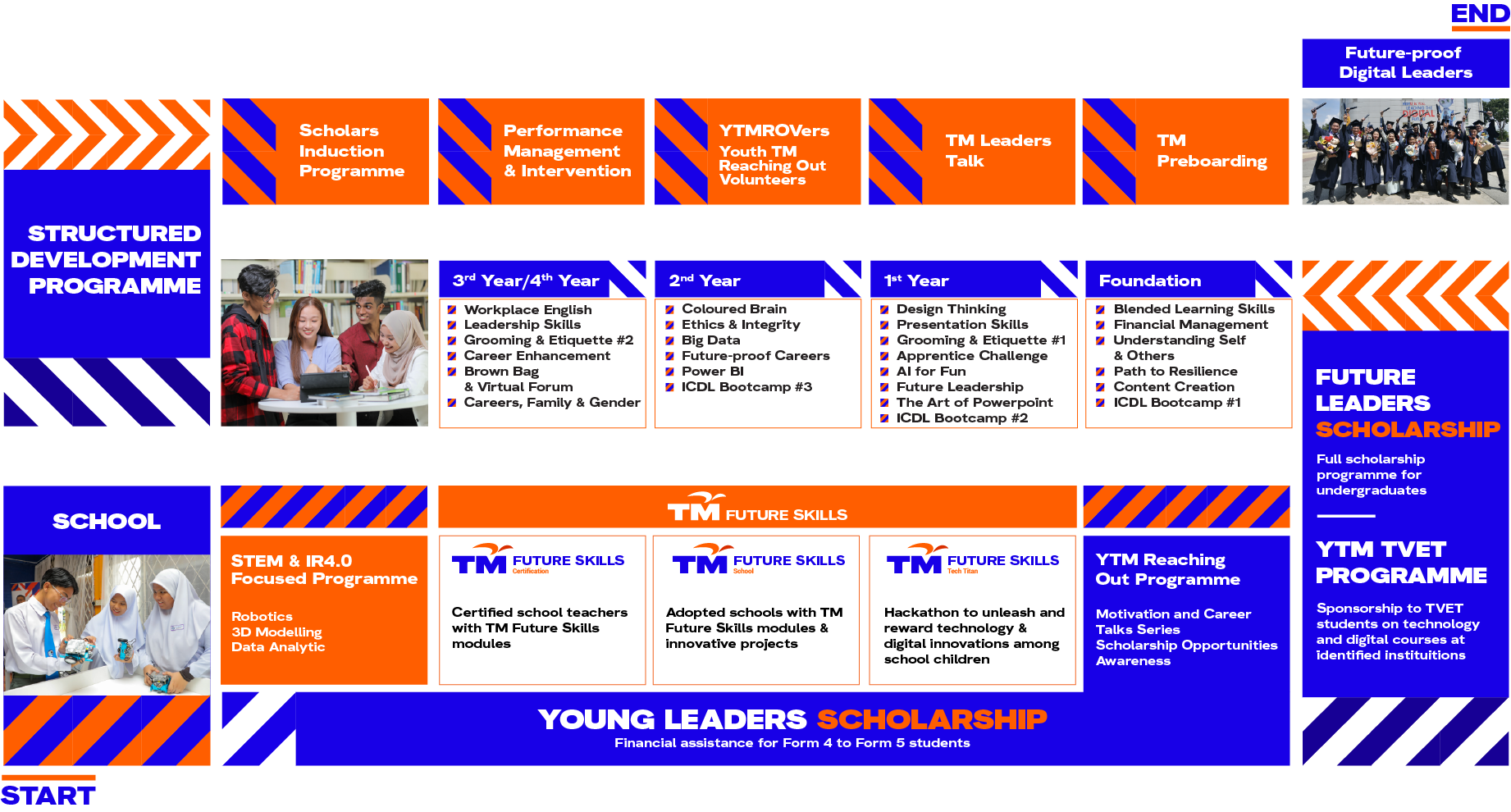 Scholarships available under
the program
YOUNG LEADERS SCHOLARSHIP PROGRAMME
Looking for a financial steppingstone in your high school journey? We've got just the thing.
FUTURE LEADERS SCHOLARSHIP PROGRAMME
Gain a full scholarship for your time at university with your proven track-record and stellar grades.
Young Leaders
Scholarship Programme
Young Leaders Scholarship Programme is a space where motivation is rewarded, and intelligence celebrated.
Connecting you to the
opportunities you deserve
Ideal for Form 4 students who excel in examinations and are active in co-curriculars.
Application Deadline
CLOSED
Eligibility Requirements
Enrolled in Form 4 currently
Malaysian citizen
Scored at least 5As in the previous year's PT3 examinations of relevant subjects
Household monthly income not exceeding RM5,000
Not have received any sponsorship from other institutions
Frequently Asked Questions
Future Leaders
Scholarship Programme
Supplement your further education studies with financial aid so that you can focus on learning.
Take the next step after
high school
Full Scholarship programme for high-achieving Sijil Pelajaran Malaysia (SPM) leavers or equivalent to pursue undergraduate studies in higher education institutions.
FUTURE LEADERS
SCHOLARSHIP
Eligibility Requirements (Local Programs)
Malaysian citizens and with good health condition.
Obtained a minimum of 6 A's for SPM 2022 or CGPA of 3.3 or equivalent for latest results.
Not exceed 23 years old in Dec 2023
Terms and conditions:
Household income not exceeding RM 20,000 a month
Applicant must not have any sibling who was a YTM Scholarship recipient at Higher Education Institution.
Applicant and both parents must be Malaysian citizenship
Applicant is not currently receiving any form of education financial aid from other sources.
Active in co-curricular activities.
Applicable areas of study:
Information Technology & Digital
Creative Multimedia
Engineering
Management
Applicable institutions:
For SPM leavers 2022:
Multimedia University (MMU)
For Matriks/Diploma/Pre-University/Foundation*:
Multimedia University (MMU)
Public Universities
*with minimum 2 years of study duration.
Check your application status:
For any enquiries, please contact:
Education:
Technical support:
Frequently Asked Questions