TM
Telekom Malaysia Berhad ("TM" or "the Group") today announced an internal reorganisation which involves the transfer of its business in Malaysia to a single operating entity named TM Technology Services Sdn Bhd ("TM Tech"). The internal reorganisation is anticipated to complete by 31 December 2023.
The reorganisation – which includes Unifi, TM One and TM Wholesale, among others – marks the next phase of the Group's transformation to be the enabler of a digital Malaysia, and to further improve its operational efficiencies, streamline processes and simplify customer touchpoints to provide a more seamless customer experience.
Incorporating its diverse businesses under TM Tech will also reinforce TM's Fixed-Mobile Convergence leadership, offering integrated fixed broadband, mobile services, data services, digital content and innovative solutions to communities, businesses and the Government.
Group CEO, Imri Mokhtar said, "As digital lifestyles, increasing competition and stakeholder expectations reshape the industry, consolidating these businesses into one operating entity will allow us to serve our diverse customer segments better and deliver their needs more quickly.
"Consolidating our suite of connectivity and digital offerings will also enable us to easily tap into the right combination of solutions to meet the unique needs of individual lifestyles and businesses."
"Furthermore, this reorganisation aligns us to industry best practices and will improve TM's competitive edge among Malaysian and international Telcos and digital players, as we continue to pursue our aspiration of becoming a leading human-centred TechCo," he added.
Under TM Tech, consumers will continue to enjoy the fastest and widest all-in-one connectivity and digital content. Enterprises and the public sector will also benefit from TM's digital and smart solutions, including cloud and data centres, cybersecurity and smart industry offerings. The operating entity will also continue to champion TM's nation-building efforts in expanding and modernising the country's fibre network, data centres and submarine cable systems.
TM Tech will be led by TM's existing senior management team and will bring together its diverse talents under a single company, encouraging greater agility and cross-functional collaboration to improve service quality.
Imri explained, "Our Warga TM will remain the execution engine for TM and the country's digital transformation. While our workforce will be realigned to this single operating entity, employee functions, entitlements and benefits will remain unchanged."
Similarly, all of TM's partnerships, vendor and service agreements will remain in effect.
Telekom Malaysia Berhad will now serve as an investment holding company for this operating entity, with all other subsidiaries within the Group to remain status quo.
"Beyond TM's own growth, this reorganisation strengthens our role in advancing the country's digital transformation and to serve our customers in a more cohesive manner. While it marks a new milestone in our continuous transformation, we remain anchored to our purpose of enabling digital inclusion, opportunities and progress for all," Imri concluded.​
YOU MAY ALSO LIKE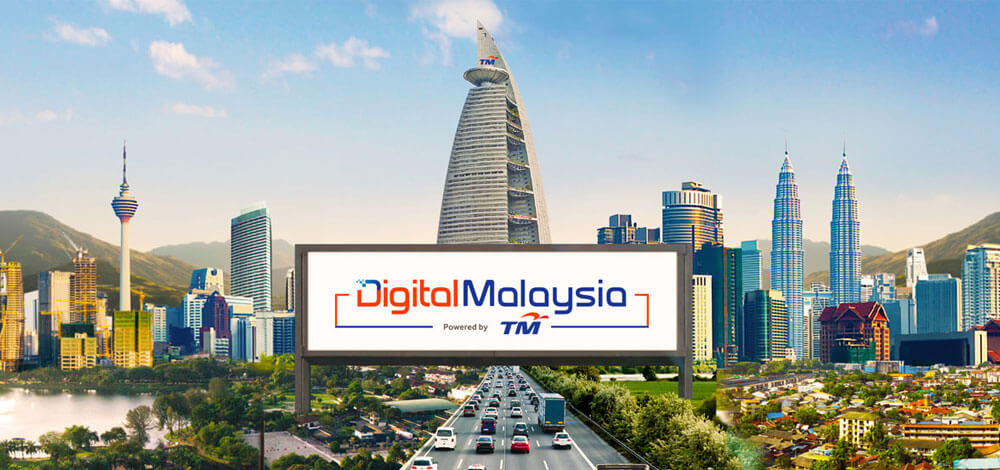 TM turns in solid 1Q2021 performance; strong start to transformation programme
The Group posted revenue of RM2.81 billion, 9.9% higher from RM2.56 billion in 1Q2020. A Solid 1Q2021 Performance Telekom Malaysia Berhad (TM) today reported its financial results for the first quarter ended 31 March 2021. The Group's revenue increased by 9.9% to RM2.81 billion compared to RM2.56 billion in the same quarter last year with an increase in revenue across all business lines – unifi, TM ONE and TM WHOLESALE. Ongoing cost improvement initiatives continued to show results with total operating cost ratios (% cost to revenue) improving from 88.1% last year to 79.7%, supporting both revenue growth whilst optimising cost efficiency across direct costs, manpower, other operating costs and depreciation and amortisation. Group EBIT for 1Q2021 rose by 80.8% YoY from RM326.1 million in 1Q2020 to RM589.7 million, on the back of higher revenue and better operating costs efficiency. This subsequently led to a strong 113.4% YoY growth in Group PATAMI from RM152.5 million last year to RM325.5 million. In 1Q2021, the Company invested 8.8% of revenue in capex amounting to RM247.0 million as it continued to modernise its network and technology platforms towards delivering current and future solutions for customers. Of the amount invested, 69% was for network access including JENDELA (fibre broadband expansion), 12% for core network, and the balance 19% for support systems. TM expects to meet the 2021 market guidance announced in February with revenue growth to be flat or single digit growth, EBIT to be more than RM1.6 billion and CAPEX guidance to be between 14% to 18% of revenue. 1Q2021 Business Highlights: A Strong Start to the New TM Transformation Programme The 'New TM' Transformation Programme (2021-2023), anchored on 40+ Value Programmes focusing on customer experience, revenue, cost efficiency and a future proof organisation, has seen a strong start with quarterly growth across all lines of business and improved operations. unifi maintains its strong momentum and convergence leadership with 11.9% YoY growth in fixed broadband customers to 2.44 million, with the highest ever quarterly fixed broadband customers net additions of 110k, driven by growth of unifi customer base. Whilst the MCO since 2020 has increased demand for fixed broadband, unifi has successfully converted this demand with its compelling unifi convergence proposition under the #unifiyourworld campaign, providing the best customer value for broadband, mobile and content via unifi Plus Box. This growth was also supported by the higher number of ports deployed and wider fiber network roll-out under the JENDELA programme, which TM surpassed its 1Q targets achieving 141% of its commitment. TM is also expanding the pool of network contractors to increase the capacity of its fiber expansion programme in the coming quarters. unifi also focused on continuously improving customer experience and accelerated its Streamyx migration programme in Q1 2021 to enable more customers enjoy higher speed broadband. WiFi optimisation is also an important part of getting the best internet experience, hence unifi also continues to promote the take up of Mesh WiFi to its new and existing customers. Meanwhile, its IT systems are also undergoing enhancements to provide better customer experience and cost optimisation via simplification and consolidation of platforms. Notably, unifi rolled out a new order management system that reduces order processing time by more than 60%, to improve customer experience across its sales touchpoints. TM ONE continues to enable the digital transformation journey of enterprise and public sector customers with a comprehensive suite of connectivity, data centre, Cloud, cybersecurity and smart solutions. After cautious spending in 2020, customers are now accelerating their digitalisation, and this has translated into new sales and contract renewals to provide comprehensive digital solutions, especially in key verticals such as oil and gas, the banking and financial services industry (BFSI) as well as from higher broadcast, ICT and customer projects. There is also greater traction seen for Cloud services from the Enterprise segment; whilst discussions are ongoing to support public sector data migration, as the Government's sole local Cloud Service Provider (CSP) under the MyDIGITAL blueprint. TM WHOLESALE is the preferred network infrastructure provider supporting the technology industry and is positioning Malaysia as a digital hub with strong demand from domestic and international telco and technology operators; including hyperscalers. On the home front, TM as the leading infrastructure partner for High Speed Broadband wholesale services, leveraged its superior network nationwide to support the industry's broadband growth. It is also the primary mobile backhaul infrastructure provider for the industry, which saw growth in coverage and capacity through dynamic offerings of these services. TM also recorded growth in terms of its Wholesale Data Services. Towards establishing Malaysia as an ASEAN digital hub, TM strengthened its partnership ecosystem with international carriers and hyperscalers registering higher revenue for International Data Services as compared to last year. TM expanded its portfolio of data centre customers with more major Asian and US hyperscalers co-locating at the nation's only Tier III twin core data centres at Iskandar Puteri (IPDC) and Klang Valley (KVDC). Its wholesale Content Delivery Network (CDN) services also expanded its digital media delivery network ecosystem with more new customers in 1Q2021. TM remains committed to sustainable growth, with continued emphasis on Environmental, Social and Governance (ESG), maintaining its strong track record as one of the 75 Bursa companies on the FTSE4Good Bursa Malaysia Index, with the full rating of 4/4. Environment: TM complies with the Environmental Quality Act 1974, and has reduced its annual carbon emissions by 13%; integrating sustainable practices in all areas of operations. Social: TM ensures the safety and health of customers and Warga TM with special working arrangements implemented and enhanced Standard Operating Procedures (SOPs) towards business and customer service continuity. TM also supports the nation and communities in need through connectivity initiatives such as Jaringan Prihatin, CERDIK, MYBAIKHATI and other humanitarian aid. Governance: Committed to uncompromising integrity, TM continuously assesses the Group's corruption risk and ensures its corruption mitigation practices are independently certified. Imri Mokhtar, Managing Director & Group Chief Executive Officer commented: "We began 2021 with a positive momentum and a strong start to our 'New TM' 2021-2023 Transformation Programme. We are pleased to report a solid year-on-year performance despite these unprecedented times. We delivered good growth with our revenue up 9.9% YoY to RM2.81 billion, contributed by strong demand from our unifi, TM ONE and TM WHOLESALE customers. Coupled with our continuous cost efficiency initiatives, EBIT significantly improved 80.8% YoY to RM589.7 million and PATAMI doubled to RM325.5 million as compared to the first quarter of 2020. Under the 40+ Value Programmes, TM is reshaping our workforce into a stronger execution engine, embracing a more agile work culture with future-ready skills; focused on growing with our customers towards a more digital society, businesses, public sector services and technology industry. TM reiterates our leading role in accelerating Digital Malaysia through digital connectivity, digital infrastructure and a digital workforce. As an essential enabler, we are ready to play a leading role in the execution of both, the JENDELA implementation plan and the realisation of the Malaysia Digital Economy Blueprint (MyDIGITAL); leveraging on our comprehensive connectivity, digital infrastructure and innovative solutions. We are also committed towards sustainable growth, with increased emphasis on ESG by our Board and management. We remain focused on our ESG sustainability journey. I am pleased to update that we maintained our track record as one of the 75 Bursa companies on the FTSE4Good Bursa Malaysia Index, with a full rating of 4/4. With this encouraging set of overall results, we are on track to meet our 2021 market guidance and look forward to delivering greater customer experience and shareholder value with our New TM Transformation Programme."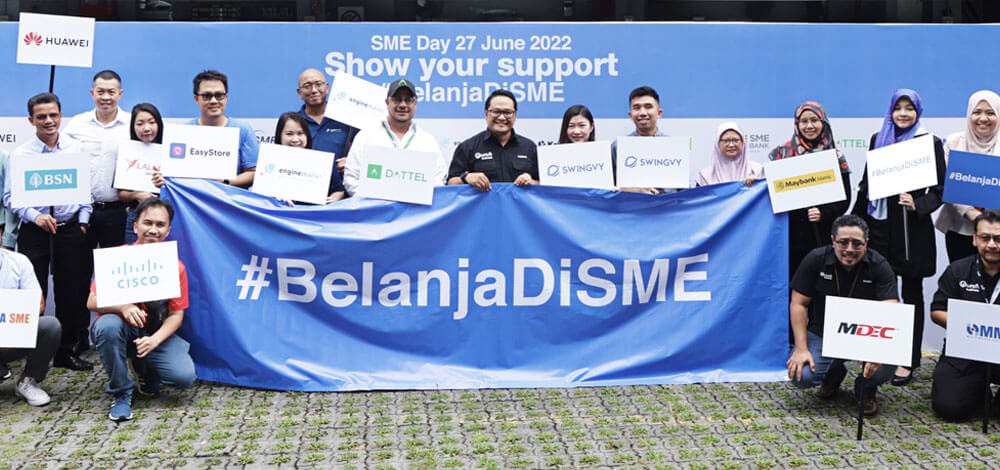 unifi business campaigns for local small & medium enterprises with #BelanjaDiSME
In conjunction with World SME Day, TM's retail convergence solutions arm calls for Malaysians to support growth of local SMEs & nation's economic rebound ​Recognising the immense contribution of local Small and Medium Enterprises (SMEs) to the country's socioeconomic growth, unifi Business is marking SME Day 2022, which falls on 27 June, with a month-long campaign to help these local players get back on their feet post pandemic, while rallying all Malaysians to support their business growth. Using the hashtag #BelanjaDiSME, unifi Business alongside several renowned partners have lined up multiple activities such as a Social Media Challenge, the SMEs to SMEs talk shows, and a nationwide entrepreneurs roadshow to celebrate the significant role played by local SMEs in creating employment, promoting innovation and creativity, as well as contributing to the country's economic prosperity. #BelanjaDiSME (which means Spend with SME) was chosen to encourage Malaysians to buy products and services offered by local SMEs, boosting the profitability of these enterprises and contributing to their rebound, post pandemic. This campaign started off with a Social Media Challenge, where Malaysians are invited to upload a picture of any local SME of their choice on their personal social media space with a creative caption, tagged with the #BelanjaDiSME hashtag. Participants with the most creative picture and caption will be in the running to win attractive prizes such as a 3-day and 2-night stay at local holiday destinations, smart devices, shopping vouchers and many more. The challenge is now open right up until the end of June, and everyone can participate! Meanwhile, entrepreneurs seeking inspiration and ideas to grow their business can catch SMEs to SMEs talk show featuring stories of local SMEs on their digital transformation journey. This talk show can be watched live on unifi Business Facebook page as well as on Astro Awani. Tune in and listen to these successful entrepreneurs: Anna Teo - Hernan Corporation (largest and leading exporter of Malaysian durians) – 25 June on ASTRO AWANI at 10.30pm Joanne Goh - Jazzy Group (international film producer) – 27 June on Astro Awani at 9.00am Nadira Yusoff - Kiddocare (online babysitting platform) – 27 June on Sembang Bisnes unifi Business Facebook page at 3.00pm. A nationwide tour is being held throughout the month of June, to raise awareness among SMEs on the importance of digitalisation process for their business growth and development especially during this transition to endemic phase. This is in line with the Government's focus on empowering this target group and improving their living standards. To give local SMEs a shot in the arm, unifi Business will also promote the SME Digitalisation Grant (SDG) where the entrepreneurs can enjoy up to 50% savings on their subscriptions to digital solutions from unifi Business or get a RM5,000 matching grant, as part of the Pelan Jana Semula Ekonomi Negara (PENJANA) initiative announced by the Government in 2021. This is an opportunity for SMEs to increase their productivity while reducing their operating cost. The pandemic has undoubtedly impacted SMEs, forcing them to evolve into a more digital literate organisation in order to survive and thrive. unifi Business, as the preferred digital partner of SMEs, provides just the digital solutions they need to make this happen, which include: unifi eCommerce Hub: Designed to connect and maximise growth opportunities seamlessly, this solution offers a single and integrated platform, with an easy-to-use interface. Entrepreneurs can sync their offline and online sales channels, manage product inventories, orders, monitor sales and revenue, as well as manage social media enquiries. They can even build interactive websites with live chat and built-in online payment features. unifi Cloud Storage: To help businesses manage the often-tedious task of storing valuable information, this solution brings flexible, safe and scalable data storage. It also provides access for multiple users and secured encryption for better business productivity. Hosted locally at TM's Green Data Centre certified facilities, unifi Cloud Storage provides a secure home for important files and information so businesses can focus on growing and being profitable. unifi Business Club (uBC): All unifi Business customers will enjoy member benefits of the uBC, which include access to relevant and current content at its portal (https://ubc.unifi.com.my). Here, they can find insightful and inspiring content such as webinars, talk shows, live chats, events, business tips and articles to help them navigate the business world. uBC members will also enjoy access to financial assistance, productivity boosters, digital marketing platforms, tools and community engagement programmes that are tailored to a variety of business needs. For more info on unifi Business SME Day 2022 happenings, visit https://ubc.unifi.com.my/. Let's support and celebrate these local SMEs, together.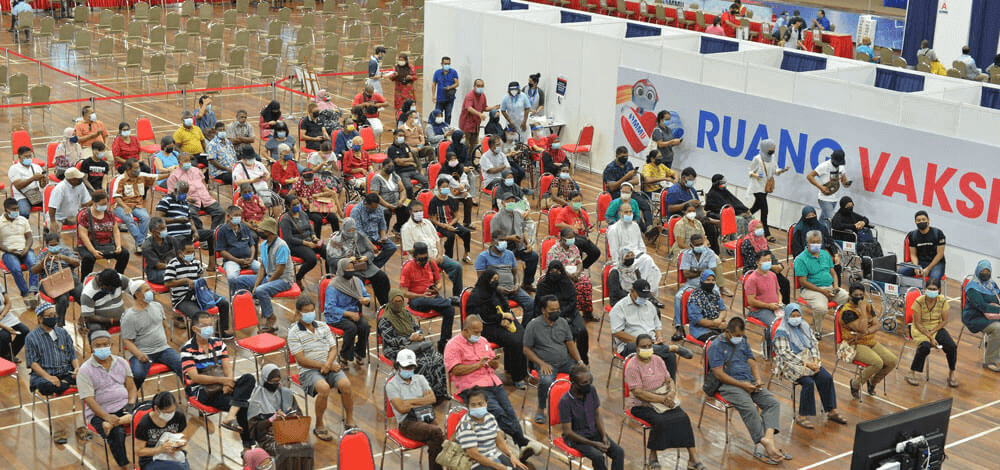 TM supports national Immunisation Programme with MMU Cyberjaya and Melaka as PPV venues and TM rovers volunteers
Multimedia University (MMU) Cyberjaya campus becomes an Integrated Mega Vaccine Delivery Centre (PPV), in addition to MMU Melaka to further accelerate the national Immunisation Programme. ​Telekom Malaysia Berhad (TM) further strengthens its support of the National COVID-19 Immunisation Programme (PICK) when its university, Multimedia University (MMU) Cyberjaya campus began its operations as an Integrated Mega Vaccine Delivery Centre (PPV) facility starting 15 July 2021. This further complements the operations of MMU Melaka campus as a PPV since mid-June. The Integrated Mega PPV at MMU Cyberjaya campus will be able to accommodate the administration of 3,000 doses of vaccine per day. Combined with the Melaka campus, both PPV facilities have the capacity to cater for 3,600 doses of vaccine daily. In addition to these facilities, TM also deployed more than 30 TM Reaching Out Volunteers (ROVers) amongst its Warga TM to lend a helping hand at Mega PPV Bukit Jalil starting 12 July 2021. This will be extended to more venues progressively. Commenting on the support, Imri Mokhtar, Group Chief Executive Officer, TM said: "We believe our responsibility to help the nation curb the pandemic goes beyond our role as an essential service provider. We are very honoured that both our MMU campuses in Cyberjaya and Melaka have been selected to be PPV facilities. Together with the deployment of our TM ROVers volunteers, this is our undivided commitment to further accelerate the national Immunisation Programme so we can help achieve herd immunity for the nation faster." TM also runs its own internal drive to encourage its employees to register for vaccination and to date, more than 80% of Warga TM has registered for the national immunisation programme and 51% of them have been vaccinated or at least have an appointment set for their first dose. "TM remains fully supportive of the Government's recovery plan. We continue to ensure Malaysians are connected in the safety of their homes and that all our customer support services are in operation throughout each phase of the recovery plan. As the enabler of Digital Malaysia, we will support all our customer segments across homes, businesses, industry as well as the public sector with connectivity and digital infrastructure and solutions towards economic recovery. We join all Malaysians in prayer for our safety and health nationwide; please continue to stay safe and ensure that we get vaccinated – together may we return stronger," he concluded.